Opening a Shopify store in 2021, the ultimate goal of store owners is to maximize the conversion rate, get sales and make money from the store. For that reason, they always want to use a theme that has an impressive UI/UX design to draw visitors' attention and powerful features to convert them into customers.
Additionally, there are more factors that contribute to the conversion rate of a website, such as responsiveness, performance, loading speed, etc. In this below list, we will mention the Top 7 Best Shopify themes in 2021 regarding all of the factors above to help you find the perfect match and optimize your online store.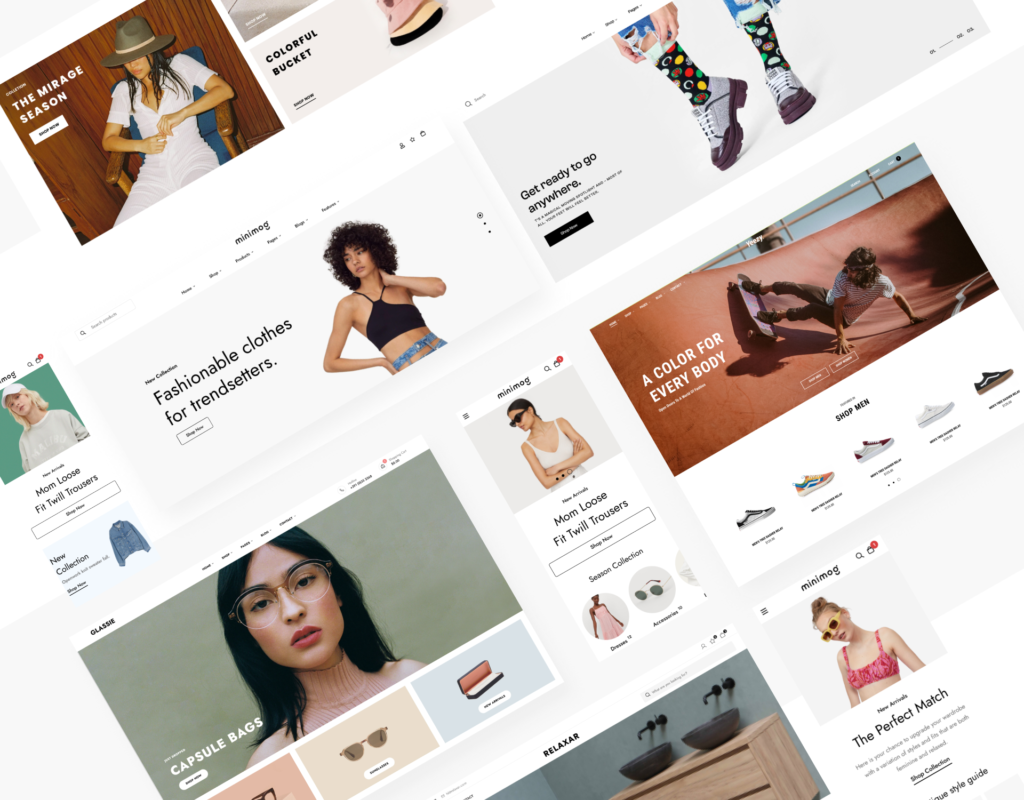 Newly born in August 2021, Minimog from ThemeMove is gradually affirming its position on Themeforest by keeping its stay at the Top #1 Weekly Best-selling Shopify Theme since the day released. It means Minimog is getting so much love and support from customers in order to be the best Shopify theme in 2021.
Minimog is equipped with 54+ stunning pre-designed demos and a huge collection of templates and layouts for users to customize their online store.
Furthermore, Minimog includes an exclusive Shopify app called FoxKit, which save thousands of dollar on other apps' monthly fee and boost store's conversion rates and sales remarkably with its powerful eCommerce features.
Check out Minimog for yourself to see how the next-gen Shopify theme looks like and how it can benefit your business.
54+ demos and a huge collection of pre-designed templates.
Upsell and Boost conversion rate features
Mobile-first and responsive design
Smooth and fast performance for the best shopping experience
SEO-friendly
Support 3D model, AR and video in Product page
New features updated regularly
Easy to setup without coding knowledge
Price: $59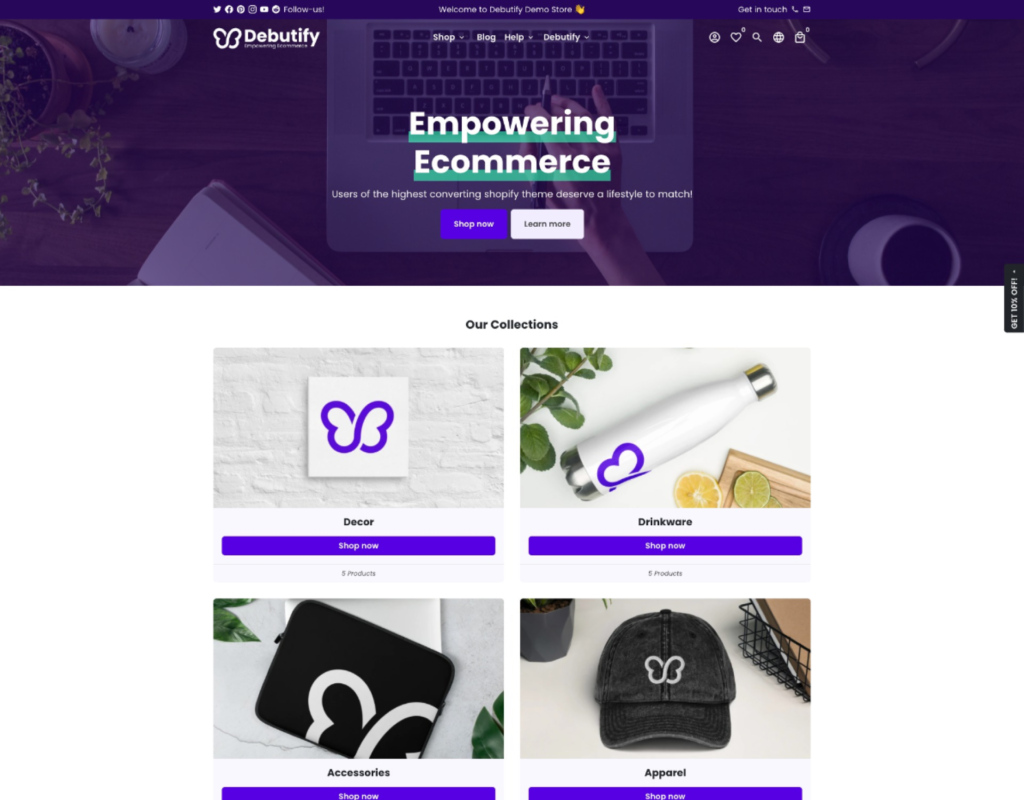 As said by the author, Debutify Shopify theme is the smart way to launch your eCommerce business. Users can build a persuasive store in hours and rely on Debutify's marketing features to scale their sales. With Debutify, your conversion-boosting apps are already built-in, just like Minimog Shopify theme, which saves you thousands of dollars every month. Further, it is being used by a huge number of customers currently.
Numerous built-in add-ons
Powerful eCommerce features
Marketing analytics
Fast and Mobile optimized
Product research tools
Price: Flexible subscription pricing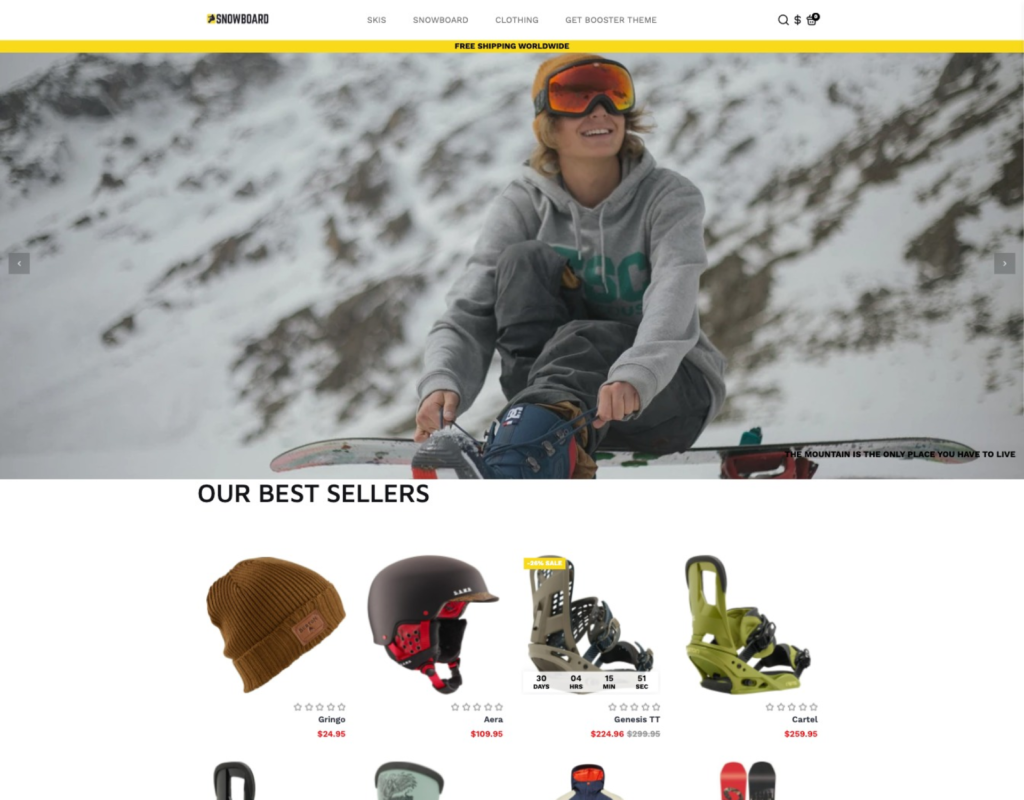 Every aspect of Booster is optimized for speed and performance. That's the key factor to improve a store's conversion rate and sales. Besides, Booster theme comes with a suite of apps that will help you create the best experience for your customers and save you more than $281/month on app fees. However, the available preset design is not an advantage of Booster as well as Debutify.
Boost sales features
Boost store user experience features
Built for performance and speed
Built and optimized for mobile
Price: $249/year – $399 Lifetime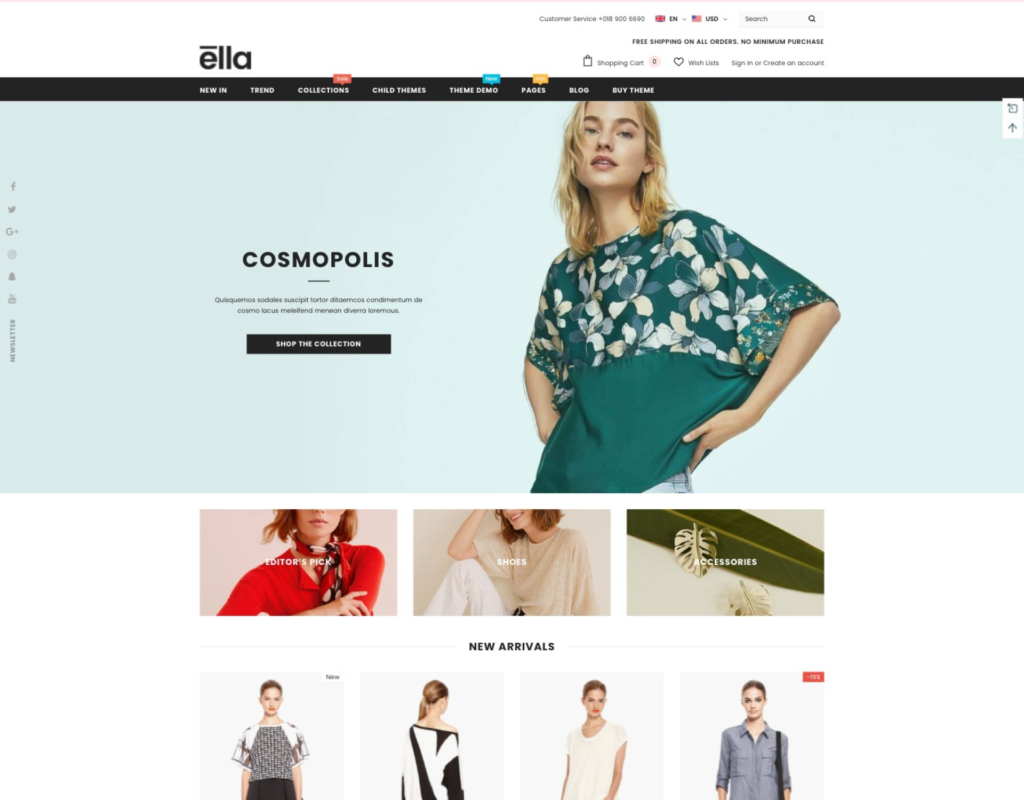 The theme calls itself an all-in-one Shopify template with multiple layouts and styles that allow you to create different stores. Being one of the earliest Shopify themes on Themeforest, Ella is leading in the number of sales on this market. Provide users with 38+ layouts and child themes, and mobile-optimized layout, therefore, users can customize easily and give their visitors a smooth shopping experience.
Mobile optimized and incredible UI/UX
Drop-down list shopping cart
eCommerce features (Upsell, Discount…)
Quick edit cart
Price: $89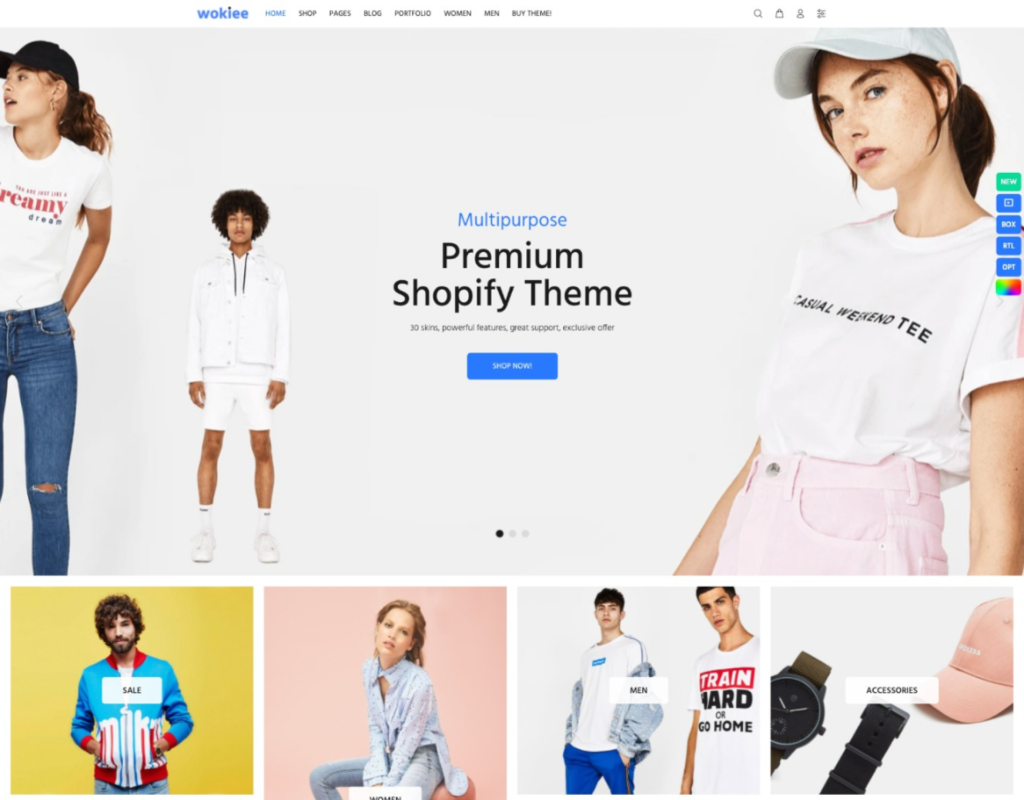 As its introduction, Wokiee is an outstanding Shopify theme for your webshop. It has all the required tools to create a fast, responsive, and mobile-ready website with great UX. Wokiee also provides a variety of layouts and styles allowing you to create different structures. Furthermore, you can gain full control over your website through the Content management system of Wokiee. The theme's features also make sure to improve your store's conversion rate.
Colorful and modern design with 90+ homepage layouts
Support 3D model, AR and video in Product page
Customizable special sections
Preorder function
SEO optimized with Google rich snippet tool
Price: $89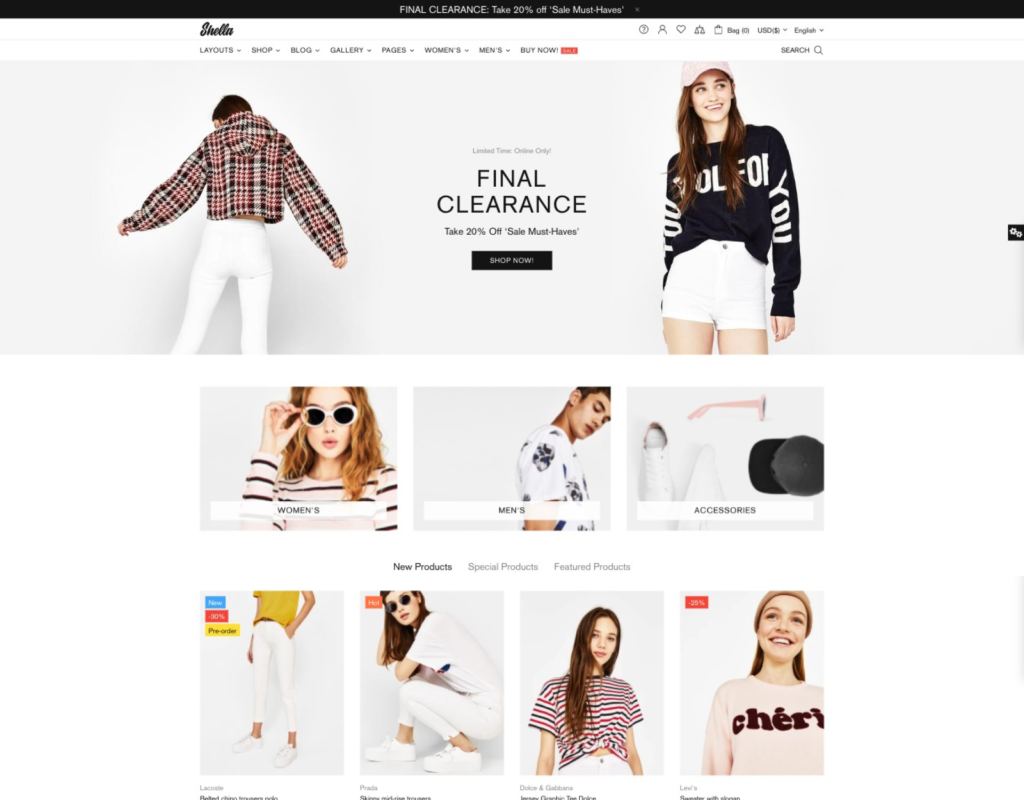 Start from a premium fashion Shopify theme, Shella has extended with many types of ready-to-use skins for different eCommerce stores. Above all, one of the key factors to build a thriving online business is giving your online store a look that keeps new visitors scrolling to see more. And Shella is one of the Shopify themes that include designs and features to get that factor.
Mobile optimized
SEO optimized
Powerful eCommerce features for boosting sales
Variety of custom layouts
RTL support
Dropshipping apps ready
Price: $79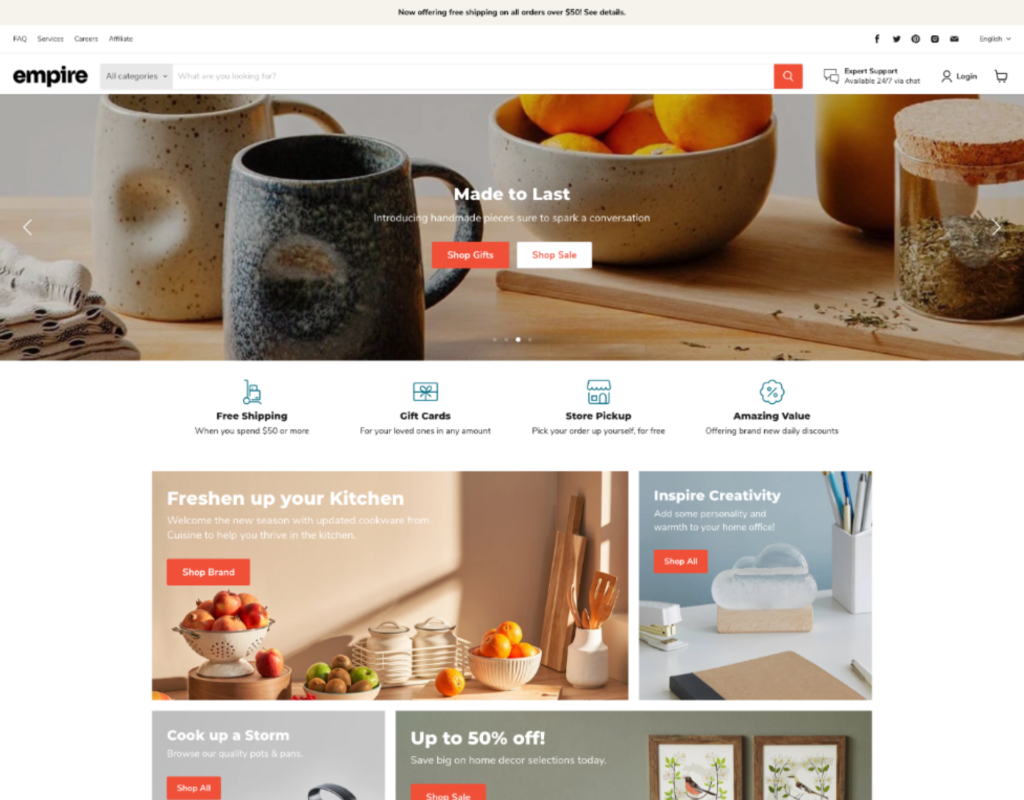 This offered-on-Shopify theme, is an Amazon-inspired theme optimized for large product catalogs. Empire's conversion-boosting navigation allows customers to find what they want and check out faster. In addition, it is also highly customizable for users to build their unique store.
This theme only provides 3 presets for users to choose from and fewer eCommerce features than Themeforest's items. However, its advantage is high-quality and smooth performance as being offered on Shopify, which ensures a high conversion rate for users. As a result, it is much more expensive than Themeforest's items.
Quick buy
Slide-out cart
Designed specifically for dropshippers
High-volume stores
Price: $300
To summarize, selecting the finest Shopify theme that fits your goals will make it easier to run your website and put you ahead of the competition. There are plenty of amazing Shopify themes available today. We've narrowed down the best options in 2021 for you; now it's time to make your own decision.