There are 455 million WordPress Websites globally, nearly 40% of all sites. So basically, if you visit 4 random websites, there is 1 from WordPress. That makes WordPress become one of the most popular targets for hackers all around the world.
According to WPBeginner, the two biggest reasons that cause harm to your WordPress website are phishing and malware. Every day, there are more than 10,000 websites are put on Google blacklists for malware. And for phishing? Around 50,000. Do you ever think your site will be on that list one day? I don't want to be too pessimistic but who knows.
In this article, you will learn about why your WordPress site gets hacked, how many types of attacks you might get and how to prevent them. So if you are using WordPress and thinking of ways to secure your website, read this article as we will mention some tips to help you secure your site. Now let's jump right into the details.
What you need to know about WordPress security
So many WordPress websites get hacked, and so few people really understand why. Hackers target WordPress sites for a multitude of reasons ranging from monetary gain to politics and simple revenge. It's important that you understand how your site can become vulnerable and what you can do to protect your site, your content, and yourself.
Why your WordPress websites are hacked?
Most people who use the internet are sometimes familiar with WordPress and know that a WordPress website is an easy-to-use solution for building websites. You don't need to know how to code or know HTML, you can build a professional-looking website in a short amount of time.
And WordPress websites are just like regular websites, they are prone to hackers. However, because WordPress is the most popular CMS out there, this makes it a prime target for hackers everywhere.
Why do you need to protect your WordPress website security?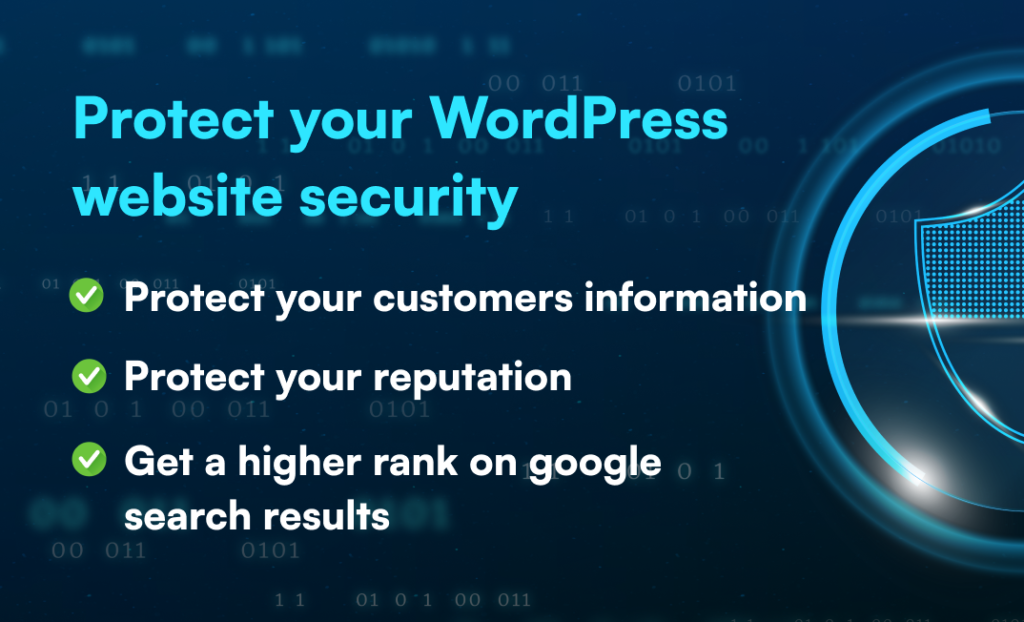 It protects your customer's information and your reputation
WordPress needs to be protected from hackers. Over 30,000 websites are hacked each day. Looking after your website security is a must. And if you don't worry about it, google will set the alarm bells off and rank your website lower in the search results. Protecting your website and your customer's information is essential for your business' reputation.
Your websites visitors expect it
Websites that don't have adequate security in place may be susceptible to hackers and malware. As a result, those who visit the affected sites could have their details stolen and information used to try and access bank accounts or infect their computer. Once you've been hacked, it can take months of hard work and thousands of dollars to restore your site back to its original working state.
Thus, your online visitors always assume your website is secure, so if you don't protect your customer's personal information and payment details, you are at risk of losing the trust and future sales from your potential customers.
Get a higher rank on google search results
The more secure a website, the faster it loads and the better it ranks in search engines. Hackers can create a backdoor to your WordPress website that allows them to inject malicious code and ads. This can slow down your page loading speed, make it display spammy links, or even take your entire site offline completely.
Why your website was hacked?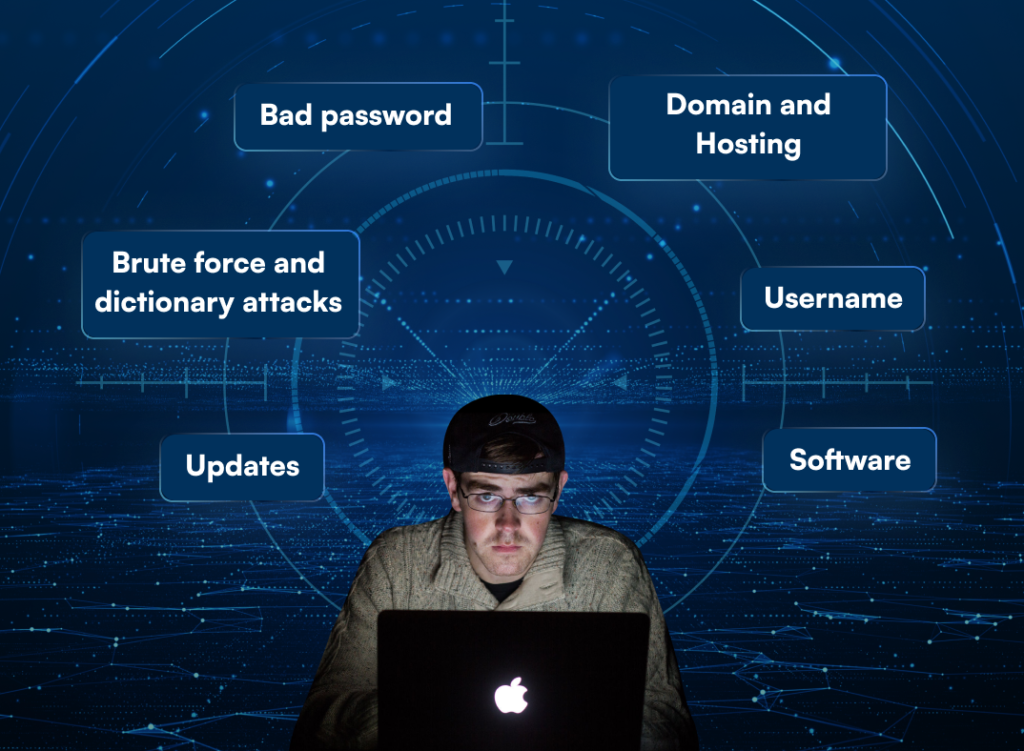 Let's say you just got hacked…and you know it. What do you do now? Deep breath, first thing is to not panic (it won't help anything). Then ask yourself two questions: 1 How was I targeted? 2 Why was I targeted? Learn what common mistakes make your website an easy target for hackers.
Bad password
You might be wondering how hackers were able to break into your website. The truth is, your business probably got hacked because you're practicing bad password hygiene. Hackers are getting more sophisticated every day and there's no sign of them stopping. So stop using passwords like "123456." Also, re-usable passwords are the root cause of most website hacks, and cleaning up after a hack can cost you thousands of dollars.
Your Domain and Hosting stick together
The WordPress site is composed of two main components: a domain and hosting. In general, we recommend keeping these two items separate for a number of reasons.
First and foremost, if your website ever gets hacked, you'll be better equipped to restore a backup on another provider if necessary. We also strongly recommend making sure the domain and hosting services you choose have customer support.
Additionally, it's easier to move to a new hosting provider if domains and hosting are separate.
Your Domain and Hosting is admin
It's like leaving your front door to your house unlocked with a label on it saying 'My name is Fred and I live here'.
Most people don't realize that WordPress automatically creates a user account with the name "admin". The average person usually doesn't change this as they know they don't need to remember a username because it is already done for them. Big mistake! Using the default username "admin" makes it 10 times easier for hackers to guess your password so if you could change "admin" to something else.
Everyone is admin
Admin privileges mean you can sign into my site to do things like add and delete posts, moderate comments, or do things that change how the site looks. If you didn't build the website, or don't trust someone who did, you should probably limit admin access. People's roles in your WordPress site are often too broad, and everyone who has access to sensitive information, that will be great harm to your site.
To keep your WordPress site secure, you need to change permissions for certain users. You will want to limit "admin" privileges by assigning "editor" role to most users.
Brute force and dictionary attacks
These are the easiest way to crack a password. So basically, automated software will be used to generate a large number of possible passwords for a target account. If the password is present in the dictionary or it is a simple pattern, then it will be easily cracked. Hence, these days many people use phrases instead of single words as they are difficult to guess. It's harder to break long combinations of letters and numbers as compared to picking an English word from a dictionary. But harder doesn't mean impossible. For an extra layer of security, check out these tips:
Use a strong password by adding numbers, uppercase and lowercase letters, and special characters
Use longer password that takes more time to crack.
For example: The comparison between how much time it takes to crack a password of 8 characters vs. 12 characters. It takes 1 hour 20 minutes for a password which is 8 characters long and It would take 317 years for a 12 characters long password.
Update your password regularly
Don't update regularly
Some people love WordPress updates. Some people even look forward to them. But there is a group of people who might see a notification saying "WordPress 4.9.1 is available!" and think to themselves "not now." Our website ends up going months or years without any WordPress security patches being applied. Suddenly, we have a serious security vulnerability on our hands.
Not only WordPress core but also with themes and plugins. You know a WordPress site is great for business, but you can't just leave it to its own devices. You need to update your site regularly.
Using insecure web hosting
This is more for folks who are looking for shared hosting where you pay $5 – $10 per month, or hosts that are cheaper than $1 per month. You can set up a new WordPress site in minutes. The benefits of WordPress.com include it's cheap, fairly easy to get started, and you get blogging features. But the disadvantages of free or cheap WordPress hosting included limited capabilities/functionality, poor security, your site being subject to ads, etc.
Using software from unauthorized vendor
It's important to understand that not all software vendors are created equal. And even if it looks like the vendor is offering what you need, it's crucial to look past their slick marketing so you can make sure you don't get burned.
Reputable vendors are easy to verify and will be around for years to come. Look for forums and social media posts that give good reviews of the vendor. Those are good indications of whether they can be trusted. Make sure they have other products supported as well.
How to prevent your WordPress website when it is attacked?
You've just read some of the most common reasons why your WordPress website can be hacked. Given the popularity of these attacks, it's imperative you take precautions to prevent them before they happen. Here is what you need to know to secure your website and get it back online.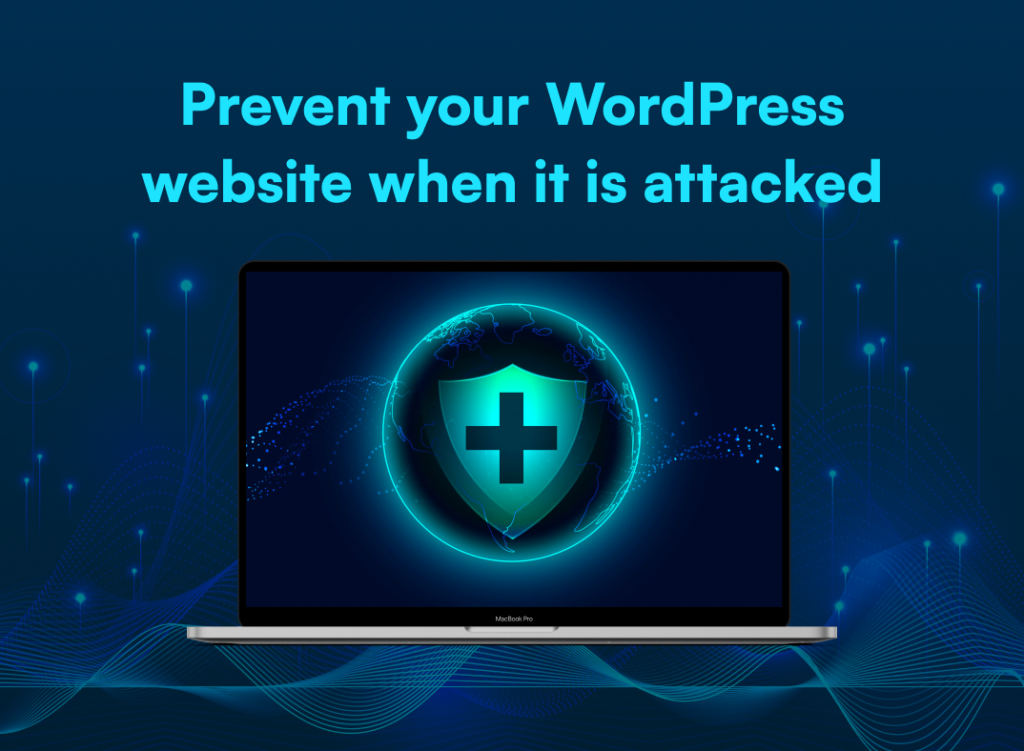 Enable two-factor authentication
Want to increase the security of your WordPress site? Add two-factor authentication to your WordPress site and you'll help keep it secure from hackers by adding a second layer of security.
When you log into your account, you'll need both your password and a special, time-sensitive code sent to your phone. No longer will simple, easy-to-guess passwords be sufficient to give access to your site. As long as an attacker doesn't have access to your phone or auth code generator, they won't be able to log into your account.
Review your website's security logs
Your logs contain the information you need to troubleshoot security issues. Reviewing your logs regularly helps prevent attacks, monitor suspicious activity, and restore your site quickly.
WordPress audits your website's activity logs, showing you information such as client IP address, login time, and success status. If a successful admin login is detected from an IP address that's not on your whitelist, you can notify your hosting service for further assistance.
Here's how you can review your website's security logs:
Step 1: Monitors your site and blocks malicious traffic
Security begins with understanding potential risks. Many security breaches happen either because a hacker finds an open door and exploits it, or because the hack causes a door to be opened along the way. That's why logging is so important: activities are tracked so that you can know if a hack or breach has occurred – even if it is only an attempt.
Step 2: Identify threats
Activities like unrecognized file changes or suspicious user activity may indicate a hack. And that's why it's so important to know when these activities have occurred. That way, you can quickly know if a breach has happened and respond fast before the damage is done.
Step 3: Assess the damage
WordPress security logs provide a wealth of information that can help you determine how much damage was done when a breach occurred and how to undo any damage. You'll see file changes, user activity, and more, all of which can help you fix things.
Step 4: Repair your site with helping tool
Obviously, a thorough review of your WordPress site's security logs is best done during a proactive security audit to help prevent any malicious activity. However, using WordPress security logs along with a helpful WordPress security guide, you can quickly find the root cause of your hack, fix your site and strengthen it against future attacks. Using WordPress security logs will help you to get back online as soon as possible.
ThemeMove gives you full control of your WordPress site. Securing your site from hackers and malware is hard, but ThemeMove security logs can help admins and managers track user activity in their WordPress site, such as logins, user creation/registration, adding/removing plugins and themes, and changes to posts/pages. By tracking these activities, admins can easily see and recognize suspicious user behavior/activities, either in real-time or later. ThemeMove security log is stored right in the admin panel of your site; no external software is needed.
Change your password
As an administrator, you might want to force all users to set a new password. You can do this from ThemeMove dashboard. This could be necessary if you suspect account security has been compromised and want to invalidate passwords.
Password resets should occur regularly, and we've made it easy. This is helpful if you think someone may have access to your site who should not.
Be on guard for an increase in phishing emails
We take malware, spam, and phishing attempt seriously. Emailing continues to be a popular method for cybercriminals to perpetrate an attack. Depending on the type of phishing email you receive, it may contain malicious attachments or links to untrustworthy websites. The phishing emails usually attempt to trick you into giving away your personal information or into clicking on. Those hackers out there design these links or attachments to look like they are from a trusted source. If you clicked on them, they may download malware that causes damage or accesses sensitive information on the user's system.
For example: If you're a blogger or social media addict, you probably get the occasional email telling you that someone left a comment on your latest post. If you get an email with this exact message, be extra cautious and watch out for phishing scams – they might be trying to steal your WordPress site.
To conclude, hacking is not something that you would want to happen on your website. It's a very bad feeling to know that someone has access to your site, has altered the site content, or worse, deleted your whole website. However, now you know all the potential reasons that can make your site get hacked and how to prevent them. Make changes to protect your WordPress site.