Minimal WooCommerce WP Theme
Finn is a specially designed theme for online shop business websites with a highly defined & responsive shop. Profits aren't so hard earned.
Finn
Version 1.0 - July 24, 2019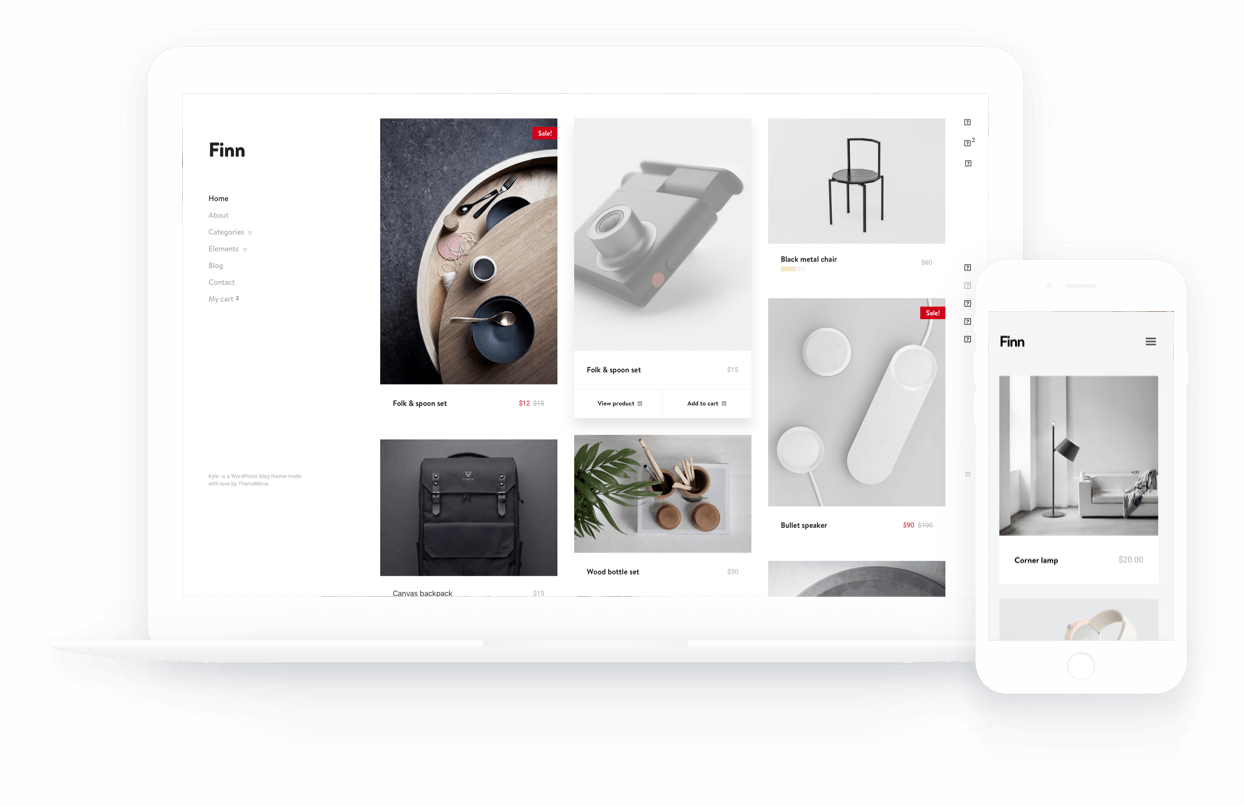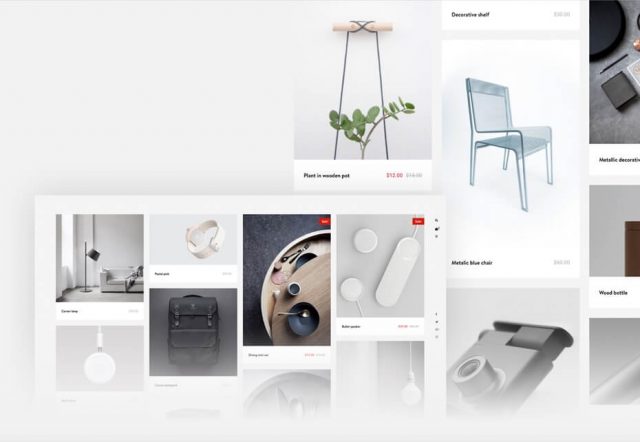 Finn embraces a diversity of post formats for users to choose from: quote, audio, video, link and gallery formats. Plus, the carefully made blog preview with category, navigation button and an excerpt of the content eases the reading experience of readers.
DIVERSE PRODUCT CATEGORIES
You can sell all kinds of goods on Finn store. However, the design is originally dedicated for furniture, decoration and electronic devices. The most outstanding feature for shop is the simple display of product info and hovering buttons for easy shopping.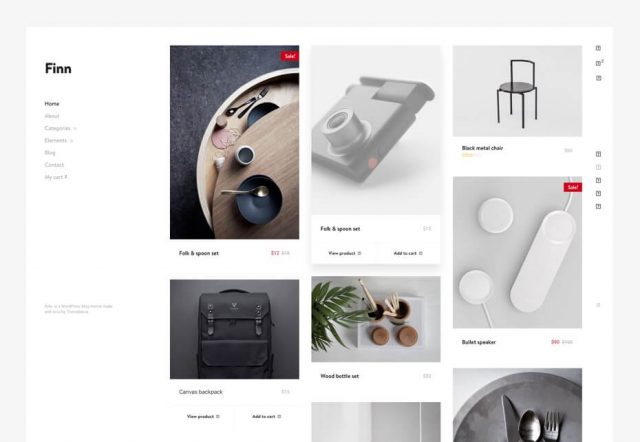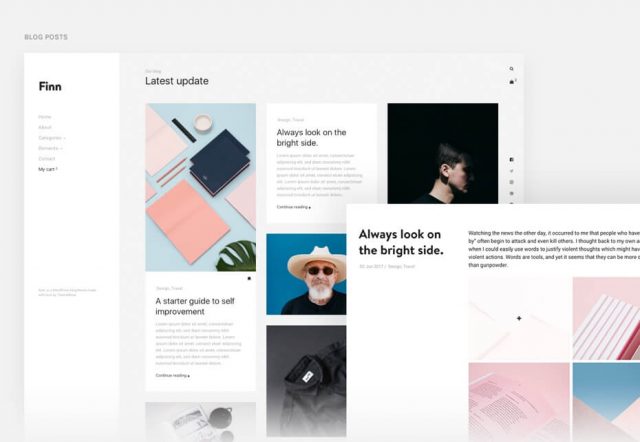 Yes, simplicity is always one of the most trendy features for websites nowadays. With a concentration on elegant color schemes and typography, Finn can fit well with any kinds of products that you want to put for sale. Growing your business is easy.
Multiple screen resolution adaptability
for mobile browsers
Whatever type of mobile devices you are using for browsing websites on Finn, the display would still be wonderful. Finn supports Chrome, Firefox, Edge, Opera and Safari.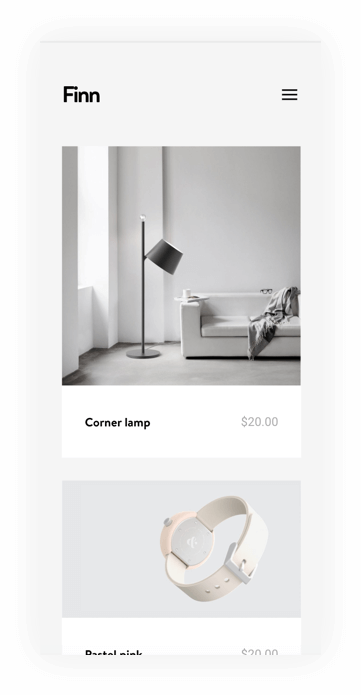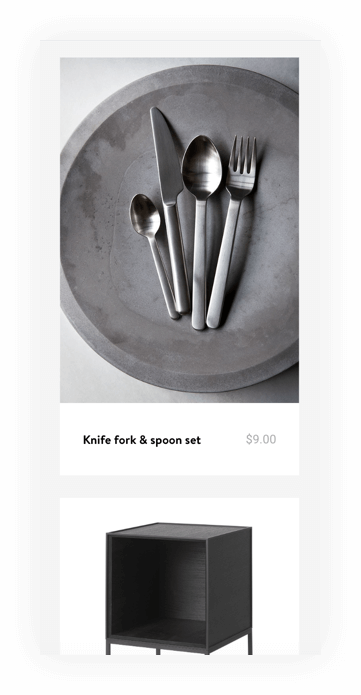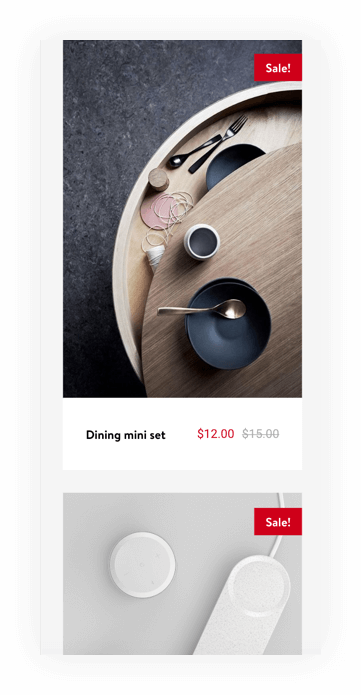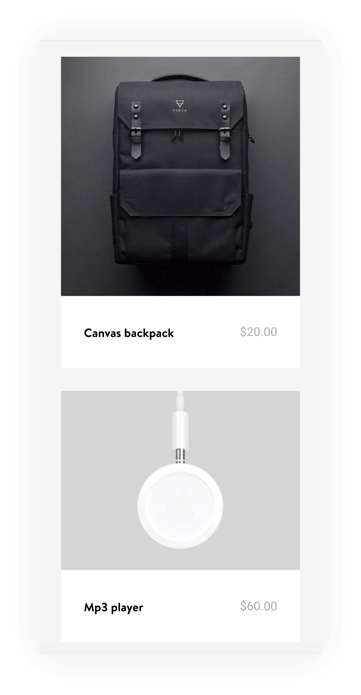 Strikingly, you couldn't find any similar themes for FREE that offers the same features with the same quality. Finn is unique and distinctive from other common WP themes.
Advanced Admin Dashboard
Admin panel is improved to be more user-friendly and intuitive for customers, despite their technical knowledge or WordPress experiences. Now, you can customize everything right from the admin panel.
Customizable Color & Fonts:
Customers have the freedom to adjust the color and typography of the theme in order to meet their design scheme for the actual site. All predefined color settings and typography would still be the most suitable.
Search Engine Optimization:
Our developers have run multiple tests to ensure Finn has the fastest loading speed as possible and smooth navigation. All elements, images and contents are fully optimized to improve the browsing experience.
Truly Retina Ready
All the images and graphics of Brook are fully optimized and highly refined to meet the demands of retina display. Sometimes, in order to save the speed, some themes have to lower the quality of images.